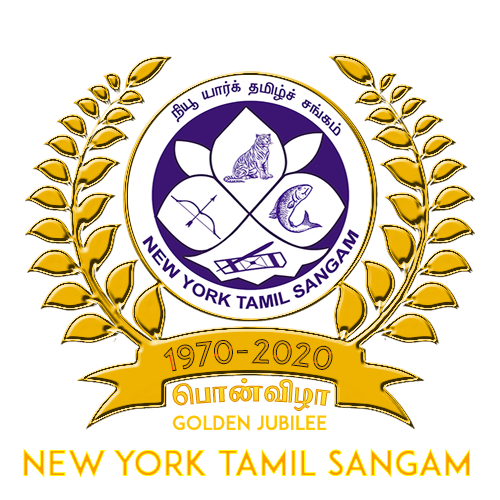 Celebrating 50th Anniversary (1970-2020)
நியூ யார்க் தமிழ்ச்சங்கம் பொன்விழா
DEDICATED FOR OUR COMMUNITY AND OUR CHILDREN
NEW YORK TAMIL SANGAM PONVIZHA
A Registered, Non-Profit, Tax-Exempt 501 (C) (3) Organization
New York Tamil Sangam is a registered non-profit, tax exempt 501(c)(3) organization, started on November 16, 1970, by Dr. P. Kumaresan at the residence of Mr. Chellappa Shanmugam, in Queens, New York. Dr. P. Kumaresan served as its first president, Mr. Chellappa Shanmugam served as first Secretary, and Mr. S.G. ShanmugaSundaram served as its first treasurer.
New York Tamil Sangam is the first ever Tamil Association started in the whole of North America.
New York Tamil Sangam today exists for promoting Culture, Art and Literature of Tamil ethnic community and for charitable causes impacting lives of people in need around the world. NYTS is celebrating its 50th Anniversary starting from November 2020.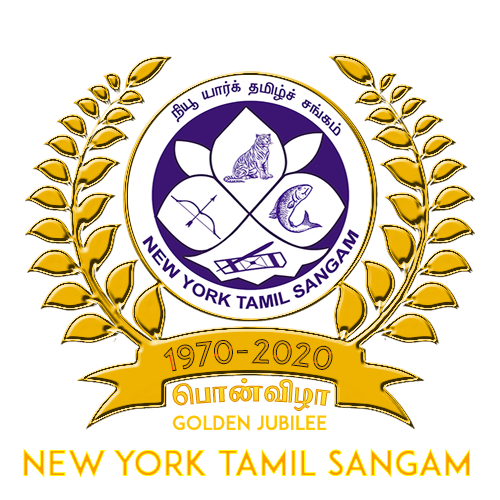 Our Tamil Community's Unity is our goal. New York Tamil Sangam has been established 50 years ago for uniting all community members of Tamil ethnic background.
Children of our community is our primary focus as they would be torchbearers of our rich traditions carried from Sangam periods to now.
NYTS has done countless events to help fellow human beings, by collecting funds and distributing meaningfully to the needy. Not only to Tamil Community, our Charity activities have encompassed international calamities as well.
New York Tamil Sangam has upheld all art forms in Tamil as precious, and included them in most of our celebrations. Traditional music instruments, Traditional games and sports were always cherished and propagated.
Our celebrations are around Tamil Festivals such as Pongal, Deepavali, Chithirai Thirunaal and we celebrate them with dedication to our cultural values displaying from dresses to decorations.
Tamil is the one of the Oldest languages on earth, and our ancient literature is very precious to our community. We organize Kaviarangam, Sollarangam, Pattimandram, Speech by academicians and literary stalwarts.
COVID 19 RELIEF FUND - APPLICATION FORM
Thanks for all your support for making NYTS 50th year Anniversary Celebrations a Grand Success .
We would like to donate the fund we have collected during our NYTS Ponvizha to 50 deserving families in Tamil Nadu based on selection criteria mentioned in the form.
To get eligible for this relief fund , download the PDF form fill it up and send back to our email nytsponvizha@gmail.com. Our team will contact you and pay the amount to the deserving family to thier bank account.
Click below to download the FORM :
https://nytsponvizha.com/wp-content/uploads/2020/11/Application-for-Covid-Relief-v1.pdf
NYTSPONVIZHA Pictures over the years
NEW YORK TAMIL SANGAM PONVIZHA DEEPAVALI MALAR 2020